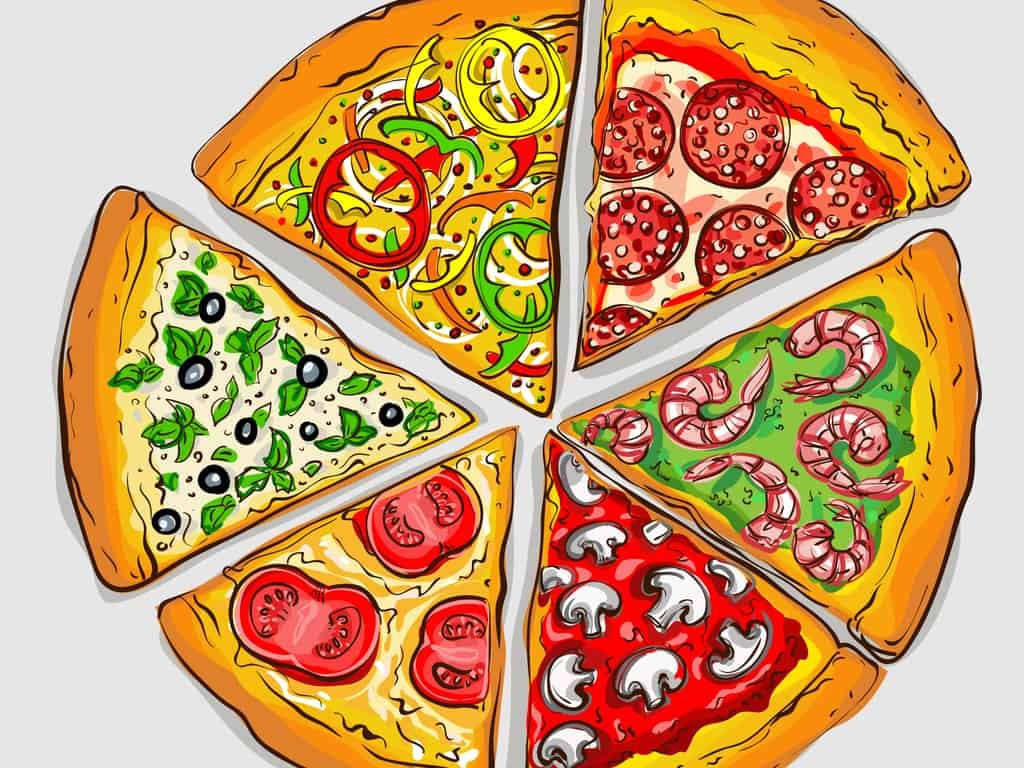 Pizza is absolutely delicious; we all know that, but what if you want to try something that's different, but also similar to Pizza? Sound like a tall order? Well, it's not really. If you have the time to look around online, you will discover that there are many delectable alternatives to eating Pizza. 
Don't worry, though – you don't have to do the hard work. I have compiled a list of some of the most delicious alternatives that will satisfy your Pizza craving, go easier on your waistline, and are super easy to make. Try them all out!
12 delicious and healthy alternatives to Pizza:
Portobello "Pizza".
Pizza Quinoa bites.
Cauliflower crust Pizza.
English muffin "Pizza".
Pizza stuffed peppers.
Zucchini "Pizza" bites.
Fresh herb topped spinach Pizza crusts.
Baked sweet potato Pizza slices. 
Watermelon Pizza dessert. 
Tortilla based "Pizza".
Pizza bagels.
Kale chips and dip. 
Perhaps these are all completely new concepts for you, or perhaps you have tried out one or two before. Regardless, it's a good idea to try each of them out, so that you know which Pizza alternative is your favorite go-to. When a Pizza craving strikes and you want to make a healthier choice, the above 12 options are a must-try. 
Drool-worthy Healthier Alternatives to the Traditional Pizza
While the above 12 alternatives manage to achieve the same charm and near flavors of Pizza, they are undoubtedly far lower in calories, fat, and sugar. Want to know how to make these? Let's jump right into the quick and easy recipes. 
1. Portobello "Pizza".
This one packs a powerful taste punch with a whole lot less of the bad that usually comes with a Pizza. Stuffed Portobello mushrooms will delight the taste buds!
Simply heat the oven to 350 degrees Fahrenheit. Then wash the mushrooms and remove the stems. Gently scrape the gills of the mushroom and brush it lightly with oil (the entire mushroom – go sparingly on the oil). Place the mushrooms on a baking tray and pop them into the oven just for about 5 minutes.
Remove the tray from the oven and stuff your ingredients onto the gill part of the mushroom. Great options include olives, spinach, and garlic. You can add some cheese, but if you want to keep fat and calories to a minimum, you can skip on this and rather pop a few cherry tomatoes (cut up) on top. Bake for 10 to 15 minutes and voila! You have a delicious Pizza-esque treat!
2. Pizza Quinoa bites.
These are a personal favorite of mine! They are easy to make and absolutely delicious. For the health-conscious, Quinoa, of course, needs no introduction. It is a gluten-free seed that is jam-packed with protein and fiber. These bites provide a burst of flavor due to featuring cherry tomatoes, fresh basil, and onion. This is, of course, no Pizza, but it is just as delicious – in fact, probably more so. 
To make these, mix one cup of cooked Quinoa with a cup of fried cherry tomatoes and onions mixed (make sure that the onions are diced really fine). Mix the tomato and onion mix with the cooked Quinoa and a handful of fresh chopped basil leaves with all-purpose flour. Add the flour spoon by spoon until the mixture thickens enough to make easily formed balls. You can cook the quinoa balls in a pan with oil, in the air fryer, or lightly oiled and in the oven (baked at 350 degrees Fahrenheit). 
3. Cauliflower crust Pizza.
This is almost like a Pizza, sans the oil, carbs, and other unhealthy bits and pieces. To make a cauliflower crust, pop a cauliflower head into the microwave for 8 minutes or until cooked. Place the cauliflower into a towel and squeeze out all the water. Using a wooden spoon, mash the cauliflower with 1 egg, half a cup of mozzarella cheese, dry herbs, salt, and pepper. 
When it is all nicely combined, press the mixture into a Pizza base shape onto a piece of baking paper. Place in the oven at 450 degrees Fahrenheit for 10 minutes. Pull it out of the oven, put your chosen toppings on it (tomatoes, black olives, spinach, and fresh basil with some cheese are a great choice) for a further 10 minutes or until the cheese is melted. Viola!  
4. English muffin "Pizza".
If you want all the taste of a Pizza without the guilt, the English muffin "Pizza" can help. It's a limited portion of a delicious taste. All you need to do is cut your muffin in half, smother it in a bit of sauce (of your choice) and top it with diced tomatoes, thinly sliced onion, peppers, olives, and cheese. Bake at about 400 degrees Fahrenheit for around 5 to 10 minutes. Enjoy!
5. Pizza stuffed peppers.
This one is super easy. Carefully cut the top off the pepper. Shove all of the goodies that you would put on your Pizza, into the pepper, and replace the top. Pop the pepper into the oven and bake at 450 degrees Fahrenheit for around 15 to 20 minutes. Now you have a delicious stuffed pepper that would give a Pizza a run for its money!
6. Zucchini "Pizza" bites.
If you have some large zucchinis available, this one will work. Simply cut the zucchini into thick slices or rounds (your choice). Top the rounds or slices with mushrooms, tomato, spinach, black olives, and cheese. Bake at 350 degrees Fahrenheit until the toppings are cooked. This one you will need to eat with a knife and fork. Now you can have all the toppings of the Pizza sans the grease and excess carbs!
7. Fresh herb topped spinach Pizza crusts.
This is by far the lowest carb Pizza you can get your hands on. To make a spinach crust, wash and drain 4 cups of spinach, chopped finely. Make sure that you dry the spinach completely and then pop it into a blender with 1 cup of grated cheese, 2 eggs, and a pinch of salt. Blend well. 
Pour the mixture onto baking paper and spread it into a Pizza crust shape using a wooden spoon or spatula. Try to keep the base around 10 inches thick. Bake this in the oven at 400 degrees Fahrenheit for 20 minutes. Remove from the oven, add your chosen toppings, and pop it back in to further melt the cheese and cook the toppings. You're moments away from a guilt-free Pizza!
8. Baked sweet potato Pizza slices. 
Find large sweet potatoes and cut them longways into thick slices. Place them on a well-greased baking tray and top with finely chopped tomato, onion, fresh basil, and seasoning. Top with a small amount of cheese and bake for 20 minutes at 400 degrees Fahrenheit. These are truly delectable. In my house, we call them "baked spuds".
9. Watermelon Pizza dessert. 
For the health-conscious and fruit lovers, there's a treat in store for you! You can have a fruity-tooty Pizza! If you are looking for a fruity Pizza dessert option, this one is for you. Slice a medium slice of watermelon round. Create a pattern on top of it with strawberries, kiwi slices, grapes, and fresh cream. Cut the end result into Pizza "slices" and enjoy!
10. Tortilla based "Pizza".
For most people, it is the Pizza base that poses the greatest risk to the waistline and overall health. If you want the Pizza without the base, opt to use a whole wheat tortilla as a Pizza base. Just make sure to place the tortilla onto the baking surface before you add the toppings. Bake at 400 degrees Fahrenheit for around 15 to 20 minutes. The tortilla will go light brown and crispy while perfectly holding the toppings in place. 
11. Pizza Bagels.
Have a bagel to spare? You can turn it into a mini Pizza. Cut the bagel in half and top it with tomato sauce. Put a small amount of cheese on top (grated), some pepperoni, and bake until the cheese melts. All that's left to do is enjoy!
12. Kale chips and dip. 
If you grow your own kale, here is a great way to eat it. Take large kale leaves and place them onto a baking tray (greased). Bake until the leaves become crispy and hard. Now munch these with your favorite tomato sauce, dip, or even hummus.
All in all
With all of these alternative options, a traditional Pizza probably isn't even on your mind anymore. I would strongly recommend trying out each of these recipes. Not just because they are delicious, but also because they are quick and easy to make. Next time you feel like a Pizza and worry about the health-inspired guilt, choose one of these options above and go wild! Enjoy!