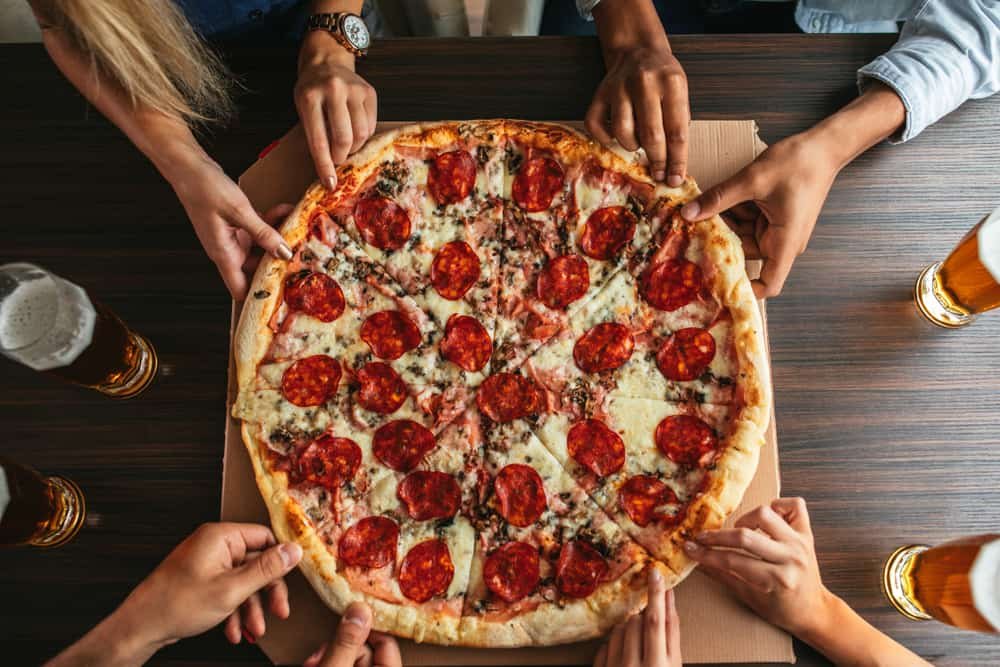 Yay! Pizza party! Four Seasons, Hawaiian, Meat Supreme, Spinach and Feta, Salami Surprise – there's undoubtedly a type of pizza for absolutely everyone! Whether you are slouching it up on the couch for the weekend with a slice of your favorite, or bopping your head to your favorite tracks while stuffing your face at the bar – pizza's always the perfect accompaniment, isn't it?
If you haven't decided to prep and totally annihilate several pizzas at your next social gathering; I have one question for you: why not?!
Whether it is a birthday, an anniversary, a graduation, or just another excuse to celebrate being alive; we all love to gather together and get a little socializing out of the way. When a social is planned, food and drink become the highlight for many attendees. If you get that right, the rest of the party/event will simply fall into place – take my word for it!
Let's take a look at the many simple reasons why pizza is the perfect meal to serve at your next social gathering below:
These are 16 reasons to have pizza at your next social gathering:
1. It's easy to eat – grab a slice and wander around with it. 
Unlike baked lasagna or fish, and salad, a slice of pizza can be torn from the box and carried around. This means that someone can grab a slice and proceed to "work the room". No need for a plate, no need for cutlery… it's just so easy. That cannot be denied. 
2. Everyone likes pizza. If they say they don't, they're lying.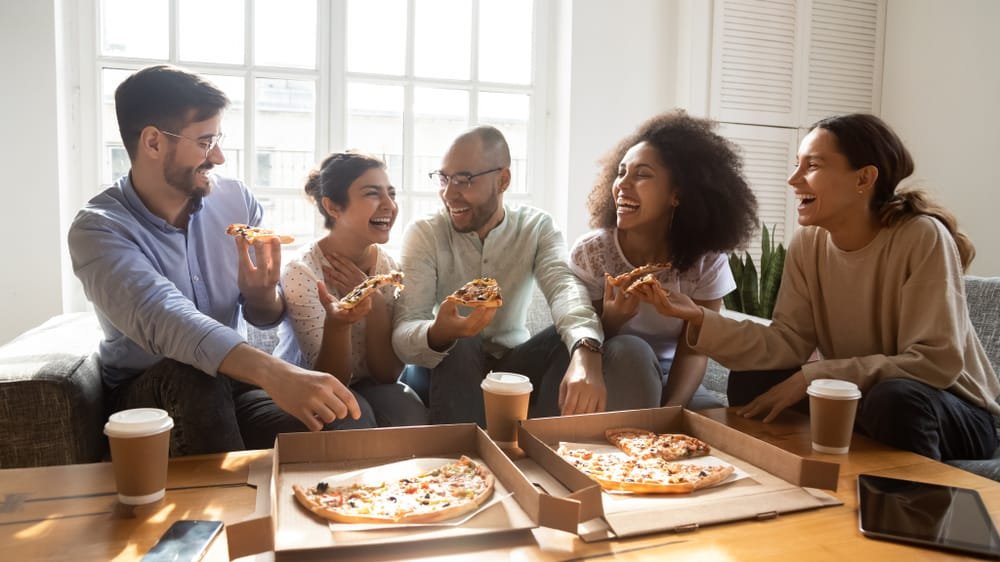 "Pizza, come and get it!" I'd be so bold as to say that not many people can arrive home with hot pizza in their hands and yelling those words, without being swarmed by the family or at least receive a few jealous glances from the neighbors. Pizza is an undeniable treat. It's an international food that has its place in most societies. Pizza comes in so many varieties that everyone finds one that suits their preferences and tastes. If you serve pizza at your party, everyone is bound to be happy.
3. Pizza is the perfect sharing food – really brings a room of people together.
Because of the way pizza is served – typically in slices within boxes placed at several social points – everyone comes together to grab a slice. This really does bring people together and get them into the conversation. It's the perfect sharing food – no doubt.
4. No mess, no fuss – there's no need for dirty plates and cutlery.
The party is looked-forward-to and ever so fun, but what about the day after when the cleaning and clearing up has to happen. If you are looking for a way to do away with the need for plates and cutlery that will need cleaning, pizza provides the ultimate solution. Serve the pizza in the boxes it comes in and simply provide some serviettes and conveniently stationed hand-sanitizers for those who want to thoroughly clean their hands. That's it – no mess!
5. Pizza is easy to serve – leave pizzas in their boxes dotted around the venue.
No need for fancy displays and serving stations when you order pizza. Simply dot the pizzas on tables around the chosen venue so that people can help themselves as they walk around.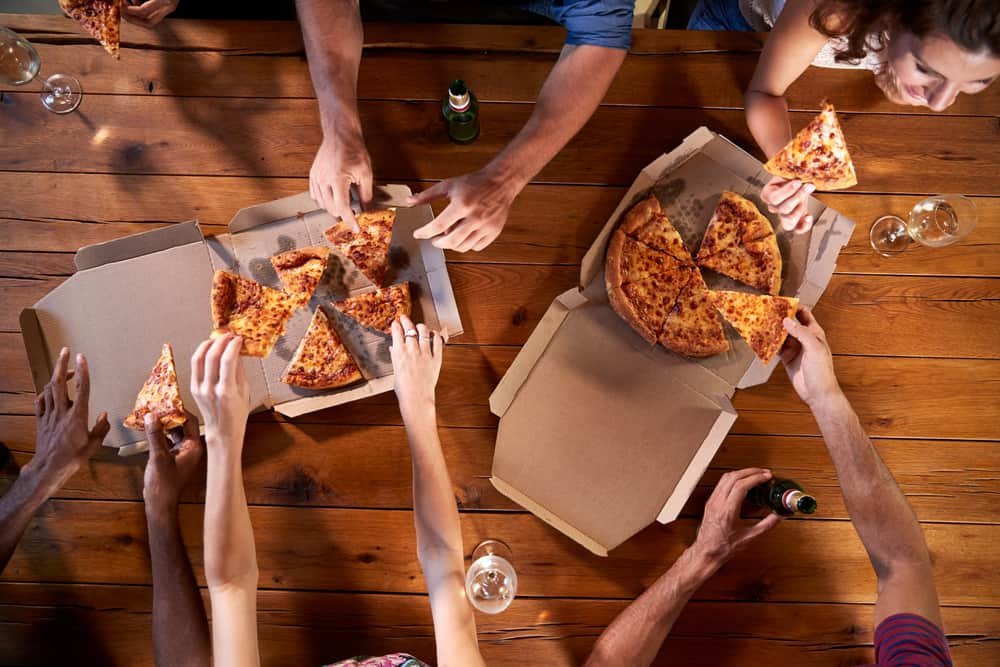 6. Full catering is expensive – pizzas are cheap. 
Ask a catering company to provide meals or snacks for 50 people, and you will be quite surprised to see just how expensive it is in comparison to ordering around 30 – 50 pizzas. The great thing about pizzas is that there's a pizza type to cater to any budget constraints. Let the pizza place know what your budget is and what size crowd you need to feed, and they will surely come up with a great catering plan for you – a plan that will save you money. 
7. You can save space – no need to set up tables and chairs for eating.
Some events need a lot of space simply for the eating portion of the event. Tables and chairs are set up, food serving areas are set it – it all seems like a waste. When you serve pizza, there is no need for tables and chairs. Sure, you can have a few for people who want to sit down and chill, but for the main eating area, you can encourage a more social set up with no fixed eating space. 
8. Pizzas can cater to everyone's tastes and dietary needs. 
When you order pizzas, you can truly cater to everyone's tastes and dietary needs. You can cater to both meat-eaters and vegetarians. Some pizza places even make vegan pizzas. If anyone has allergies, you can buy pizza that specifically caters to their needs. Ordering pizzas makes it easier to cater to everyone's eating requirements.
9. No hours spent cooking in the kitchen – just order and serve. Voila!
In the lead-up to an event or celebration, self-catering often means many hours spent sweating away in the kitchen. By the time everything is cooked and served up, you are exhausted and not really in the mood to socialize all night. Why waste time in the kitchen when you can order pizza and have it delivered in time for your event? Time saved…and frustration too. 
10. Makes everyone feel comfortable eating.
Not everyone wants to sit down and eat a meal. Some people are uncomfortable with a set meal in a group of people. Pizza makes it more acceptable for people to decide whether they will eat or not. And if someone is uncomfortable eating in a group, they can grab a slice and quickly eat it where they feel most comfortable. 
11. Pizza is enjoyable, hot or cold.
Catering can be a nightmare for a social gathering, especially trying to keep the hot foods warm and the cold foods cold. Eliminate the hassle of fussing over this and offer pizza. It's really enjoyable whether it's hot or cold. 
12. It lines the stomach – great for a pre-beer(s) preparation!
Eating something greasy and filling before you drink several alcoholic beverages is a great way to slow down the rate of intoxication and ensure that you don't feel sick during the process. Pizza is a great oily food to line the stomach before a night of a few drinks. Use it to your advantage and offer your guests the opportunity to line their stomachs too. 
13. You will love the leftovers.
Most events are a raging success but still have food leftover. It turns out that most humans over-cater; even when they feel as if they are under-catering. Regardless, you will absolutely love piling the leftover pizza slices up and saving them for next day treats and snacks. Yum!
14. It's portable – easy to transport.
If you aren't having your social gathering at home and are using an external venue, you will need to transport the food/catering equipment and items to the venue. When it comes to pizza, transport is absolutely easy. Simply load the pizza boxes up and take them along with you. Easy-peasy.
15. You can order it last minute and get it hot and on time.
 If you run out of time and need to ensure that you have something to serve at your social gathering, pizza can save the day. You can call your local pizza place and have them whip up a few pizzas and deliver them to you. Again, it really couldn't be easier – and at the last minute too.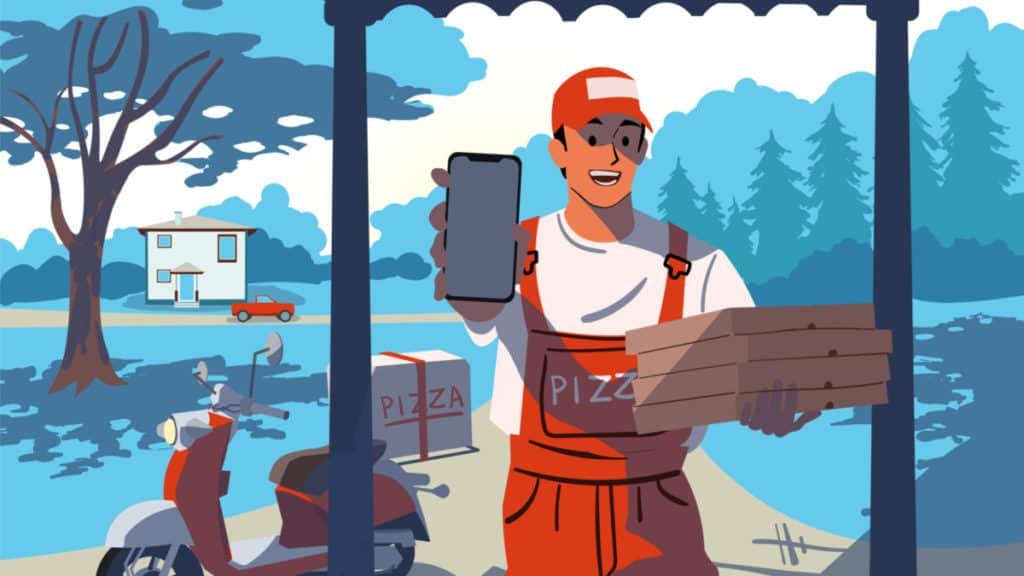 16. You can use loyalty discounts/coupons!
Many pizza places offer loyalty and reward programs that result in discounts or free pizzas at a point. You can use your gathered points and coupons to knock down the price of your social gathering's food. Alternatively, you can use your big order to rack up some points. 
Last Word
Who really needs a reason to order pizza, right? I certainly don't. Hopefully, the above 16 points paint a clear picture of why you should order pizza for your next event. We all know that there are many more reasons why pizza makes for the perfect party meal – don't we?! Now that you know all of this, you're probably wondering why you haven't been serving pizza at every social gathering and party you have had in the past, right? Who knew that there were quite so many pros to serving up some pizzas? Now, you do. Spread the word!